Dirty Works Dumpsters Now Offers Dumpster Rental in Hattiesburg MS
Dirty Works Dumpsters, a company based in Poplarville, MS, is pleased to announce that they are now offering dumpster rental services in Hattiesburg, MS and surrounding areas. Hattiesburg is the newest city that has been added to their service area, which means residents of Hattiesburg can now rent some of their brand new dumpsters. Except for certain dangerous materials, clients would be able to get rid of everything that needs to be thrown away. And these dumpster rentals are not just for those who want to clean up a property. They can also be helpful for those who are planning huge home improvement projects.
Chris Kimball, a representative for Dirty Works Dumpsters, says, "We are committed to making the process as simple as possible so that you can streamline your project and get that unwanted junk out of your life for good. We are a local company with deep roots in the community, and we are proud to serve our community by providing dumpster rentals that assist them in cleaning up and clearing away trash and clutter. Use our online reservation system to reserve your trash dumpster rental today, or call our friendly and knowledgeable team."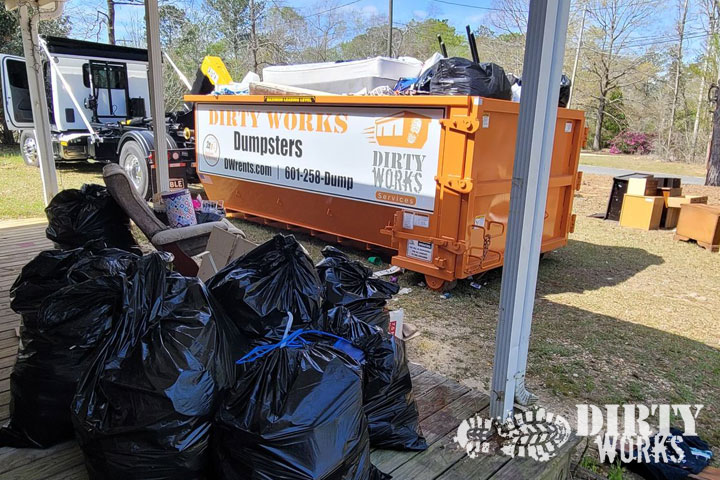 There are two sizes of roll-off dumpsters available for rent from Dirty Works Dumpsters, which are the 15 yard dumpster and the 20 yard dumpster. Their 15 yard roll-off dumpster measures 8 feet in width by 14 feet in length by 5 feet in height, and has a capacity of approximately six times that of a pickup truck load. It is typically useful for relatively small projects, such as: different kinds of home renovation projects, including the remodeling of a laundry room; repair of a sidewalk or driveway; removal of waste and junk from the yard waste; installation of kitchen cabinets; clean out of a huge room, such as a garage, bedroom, bedroom, basement, or attic; and removal of flooring, walls and carpet.
The 20 yard roll-off dumpster that is available from rent from Dirty Works Dumpsters measures 8 feet in width by 16 feet in length by 5.5 feet in height and can contain up to approximately eight times that of a pickup truck load. This dumpster size is often used for home remodeling and construction projects, such as kitchen remodeling, yard cleanups, renovation of the master bedroom, attic clean outs, garage clean outs, basement clean outs, and other similar projects.
They will allow almost everything to be dumped into the dumpsters, such as: refrigerators, various kinds of garbage, mattresses, junk from foreclosure cleanouts, construction wastes, yard wastes, different types of trash, appliances, television sets, furniture, e-wastes, hot tubs, and more.
One major factor that distinguishes Dirty Works Dumpsters from other providers of dumpster rentals in the Poplarville, MS area is that they have made the dumpster rental process easier and simpler. In addition, they offer flat-rate prices, durable dumpsters, and on-time delivery. They offer residential dumpster rentals, which provides the best waste management tool for the home. Whether clients are moving in and have to clear out the clutter from the house, or they're planning a landscaping project, their durable dumpsters can help clients manage the waste properly. They also provide construction dumpster rentals, which means all of the wastes produced during a construction or renovation project can be properly disposed of. And they also offer roofing dumpster rentals for homeowners who are having their roofs repaired or replaced.
Dirty Works Dumpsters is a company in Poplarville, Mississippi that provides dumpster rental services in Poplarville and neighboring areas, including Biloxi, Carriere, Bay St. Louis, Gulfport, Hattiesburg, Columbia, Lumberton, Pass Christian, Long Beach, Picayune, Purvis, Petal, Wiggins, Saucier, and others in Southern Mississippi. But it is important to note that even those who have projects beyond the radius of the indicated service area may request for dumpster rental although extra fees may be charged depending on how far the location is.
When in need of dumpster rental Hattiesburg MS residents can check out the Dirty Works Dumpsters website or contact them on the phone or through email. They are open from 7:00 am to 5:00 pm from Monday to Friday; and from 7:00 am to 4:00 pm on Saturdays.
###
For more information about Dirty Works Dumspters, contact the company here:

Dirty Works Dumspters
Chris Kimball
6012583867
stormteamdiamond@gmail.com
623 MS-26 E, Poplarville, MS 39470